[Review] Text: Wojciech Pacuła

• Product: Harmonix Harmonix-Strings HS101-EXQ Exquisite + α1
• Type: Speaker Cable + Cable Support
• Price: 2.5 m - 3500 euro, 3 m - 3900 euro, Cable Supports Alpha-1 (2pcs) - 615 euro
• Contact:
www.mojeaudio.pl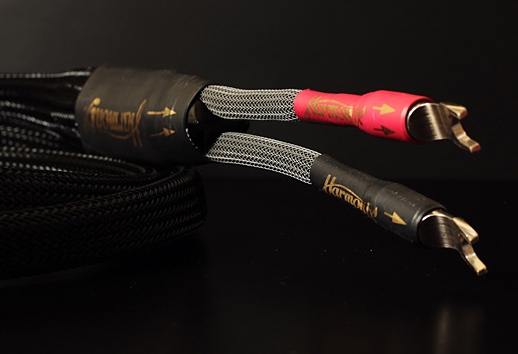 I hope that you do remember the special edition of "High Fidelity" from November 2008 (Issue No. 55), devoted to the products coming from the Japanese company Combak Corporation: Reimyo electronics, Bravo! Loudspeakers and Harmonix cabling. The system composed from all those components turned out to be exquisite. Although it was Reimyo, which caught my attention almost completely, yet the Harmonix cables were equally interesting – the interconnect HS-101GP and the loudspeaker cable HS-101 LSC. But apparently their maker, Mr. Kazuo Kiuchi, needed something else. And from this need a new cable was born, the top – although relatively still quite cheap – HS101-EXQ Exquisite loudspeaker cable. From the very beginning it was designed for high efficiency loudspeakers – 95dB and more. This is logical – the 8 Watt amplifier Reimyo PAT-777 requires such speakers. But this test is based on less efficient constructions – my Harpia Acoustics Dobermann (87dB) and Art Loudspeakers Moderne 10 (90dB), I did not have access to other speakers at time of the test.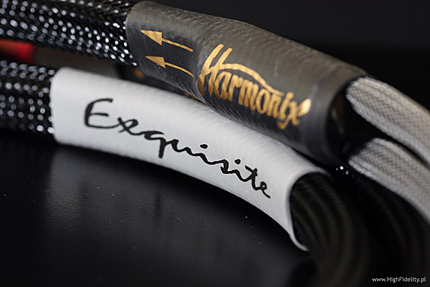 I asked Mr. Kiuchi about the new cables, and he responded as follows: "The HS-EXQ Exquisite is a completely new loudspeaker cable. It does not replace any existing model, and they work equally well in the whole frequency range. In comparison to most other models existing on the market, regardless the price, they show much better the separation of instruments in string quartets and symphonics. HS-EXQ give a full, organic transmission, touching the listeners. During the long period I studied different constructions, performed listening tests, I did not find any other cable, which would match the Exquisite in terms of separation and natural sound. Due to its construction this cable is capable of working perfectly with loudspeakers like Living Voice, Audio Note, Lowther, Avantage or Tannoy Prestige." For testing we received the cables with optional, extremely expensive cable supports α1. They are beautiful, with a Teflon bearing, allowing the top part to rotate freely, and perfectly finished wood.
Discs used for testing:
• Frank Sinatra, "Nice'N'Easy", Capitol/Mobile Fidelity, UDCD 790, gold-CD.
• Depeche Mode, "Sounds Of The Universe", Mute/EMI Music Japan, TOCP-66878, CD+DVD.
• Art Pepper, "…the way it was!", Contemporary Records/Mobile Fidelity, UDSACD 2034, SACD/CD.
• Carol Sloan, "Hush-A-Bye", Sinatra Society of Japan, XQAM-1031, CD.
• J. S. Bach, "Brandenburg Concertos", Academy of Ancient Music, Harmonia Mundi, HMU 807461.62, 2 x SACD/CD.
• Sonny Rollins,
Now's The Time!, RCA/BMG Japan, BVCJ-37213, K2 CD.
Feel The Difference of the Blu-spec CD. Jazz Selection, Sony Music Japan, SICO-20050-1, Blu-spec CD + CD.
SOUND
Model Exquisite is with no doubt a better cable than the, until recently most expensive, HS101-LSC. Much better. And not only I heard the difference, but also my friend, owner of the 'LSC', who listened to them at my home, then at his home. His hand was shaking, when he had to return the cables, because he would prefer to keep them.
But he did not wait long, two weeks after the listening session, he bought those cables for his system. I liked the Harmonix cables I tested together with the Reimyo system. Their culture, tonal balance and holistic approach to the sound resulted in much pleasure coming from listening to music. Those cables were not ideal, their approach to the sound was a tad too "soft". 'EXQ' is much better. To the assets the previous cables had, it adds splendid energy and a very thick, very resolved sound from mid bass up to upper midrange. And it is not even about dynamics, because like in most Japanese products it is slightly softened – this softening is not in objective sense, because that is not there, but in comparison to most of hi-end devices I know, the energy of the emission, the ability of show a vast amount of information in a very short time is a bit softened. The information is not chaotic, just to "push" something through, and appear as if everything is OK. Japanese cables allow for an orderly transfer of energy, internally connected, ordered, with splendid timbre and special relationships between the individual instruments. In that aspect only cables like Tara Labs Omega or the Acrolink Mexcel S-20000 can do more.
For the given money (even up to 6000 euro ) I do not know any other cable – I mean I did not hear any other cable – which would be able to transfer the signal with such grace and lightness.
One of the characteristics of the HS101-EXQ Exquisite is a fantastic transparency. It is not about being detailed, as even my Velum LS-G has that on a very high level, but about little intervention in that, what it transfers. I am of course talking about a subjective opinion, but this is the only one available for us. And for me the Harmonix cables are so attractive in that aspect, because due to very good vividness, without any withdrawal of the treble (what was somewhat audible in the LSC), they showed the depth of the instruments incredibly well; their physicality, and not only a picture projected on some kind of a screen. Such transmission can be incredibly "colorful", with good dynamic of timbres, splendid blackness, etc, but is always a two-dimensional projection of something, that in reality has four dimensions – time plays a great role also in music. The Japanese cable shows all those four elements – wideness, height, depth and the way they change in time – in an incredibly coherent way. That is the reason there is no trace of any nervousness or acerbity. And we do not talk about any rounding of the sound. This new cable modifies the attack of the sound to a much lesser extent than the older cable, and does not cut of the treble. The latter is as strong and equally expanded as with my Velum,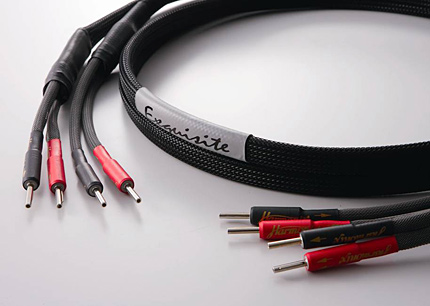 which is splendid in that aspect. This is why the differences are more unequivocal, and changes in tonal balance and dynamics are not homogenized. This was splendidly shown by the test of the Luxman D-08 player, a brilliant device, which I tested in parallel for "Audio". It is splendidly even, except for one element – a part of the midrange is slightly hardened, and this needs to be corrected by an appropriately chosen preamplifier. That kind of details were shown by the 'LSC', but just in 'passing by', not making any issue of that. And there is a problem, maybe not a big one, but we need to be made aware of it. 'EXQ' showed this peculiarity of the Luxman even better than the Velum, and this is a big compliment. It was the same with recordings – the new disc of Depeche Mode Sounds of The Universe is splendidly recorded, but vocals are a bit hard in the upper midrange, what can be heard even on the Japanese version – which is much better in that aspect. The Harmonix showed it very well, without underlining it, but also without hiding it. We could say it is a pity, as listening should be a pleasure. This is true, but the audio gear should reproduce that, what was on the disc in a possibly truthful way, and if something doesn't sound well, then it is a flaw of the recording, and not the equipment. Only then we can talk about hi-end.
The resolution and big energy of the midrange are the things, which will always be a part of any review of this cable. The recordings from the disc of Art Pepper …the way it was! the splendidly preserved rhythm, beautiful timbres and space were really to my liking. It was the same with the disc Hus-A-Bye Carol Sloan, where every piece was recorded in a slightly different acoustic surrounding, and that was shown very nice by the Harmonix, with long reverbs and without overexposure of extra musical items. Interesting was the fact, that the differences in timbre, and especially in the expansion of bass, that are there between the two discs (Rollins is lighter, less flat and not so saturated, but it has better dynamics) were a bit smaller with the Harmonix than with the top Acrolink and Tara. Also Velum showed those differences stronger. But although in case of the first two cables this was a natural extension of the way those discs sounded, in case of the Velum it was slightly underlined by the less worked out, less saturated midrange than in the Harmonix. In that aspect, the Japanese cables are simply brilliant. Because there are only two things that differentiate the new cable of Mr. Kiuchi from other, absolutely top line, cables: extension of the frequency range to the top and bottom and dynamics. To make it clear: I am talking in context of cables costing – 10000 – 12000 euro, and not 4000 euro. From both ends of the spectrum the cable is a little limited, I mean, the lowest bass does not sound so fleshy as in the Tara, and the top is not as expanded as in the Acrolink. Bass is stronger also in my Velum, but not by much. Also dynamics is slightly softened. But this is not audible from the very beginning, just after connecting the cables, because energy of the emission, the amount of that, what is happening, is really very big, and there is absolutely no impression, that we miss anything.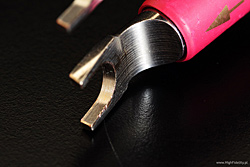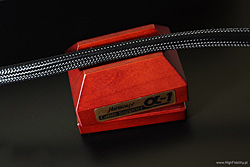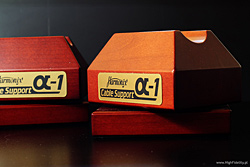 We tested the following Harmonix products:
Loudspeaker cable + interconnect + power cables – HS101-SLC + HS-101GP + X-DC "Studio Master" – See here for Review.
[close]