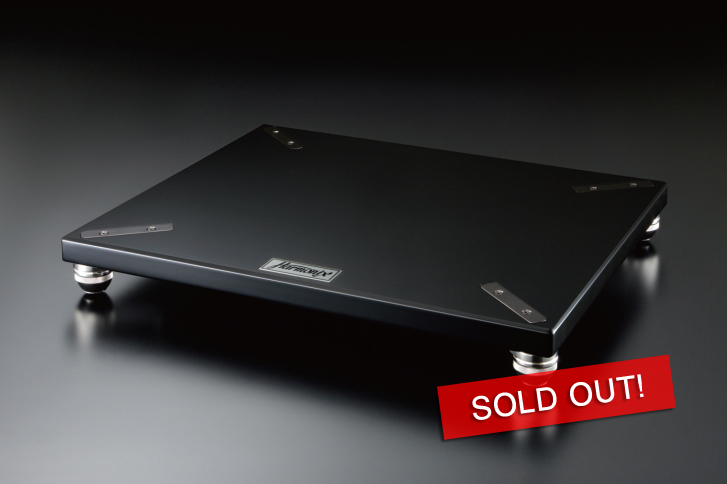 RSB-1 New Tuning Board
For the ultimate music reproduction
There are many fine looking boards and platforms on the market but when it come to performance, they are all limited. RSB-1 is unprecedented Tuning Board for Stereo and Monaural power amplifiers to have its potential to be unleashed. RSB-1 designed in basis of our unique and traditional Harmonix resonance control technology, help removing distortions presenting in all audio and visual amplifiers cause lack of musicality, limited deepness of frequency band and dynamic sound contrast.
Amplifier placed on RSB-1 will immediately start driving effortlessly, well-balanced and bring out the potential of amplifier the way designer literally intent.
RSB-1 makes music reproduction much truer. Transients become crispy, instruments are better delineated, dynamic are more impact, vocals are sweeter and more lifelike.
The overall results a exquisite quality sound reproduction that you have dreamed for years of goal. Experience a new music listening enjoyment delivers only by RSB-1.
| | |
| --- | --- |
| Size | 560mm(W) x 450mm(D) x 30mm(Thickness) |
| Total height | 71mm with feet |
| Color | Semi-Glossy Black paint |
| Board | Wood with adjustable feet |
| Weight allowance | About 150 kilograms |
Note: RSB-1 was designed to be able to use with SF-2000EBS (Optional) for further better tuning effect.
Royal Stage Rack System is a "State of the Art" revolutionary Rack System created by Combak engineers from years of extensive research. The Royal Stage's unique design allows the full potential of your system to be unleashed, enabling you to hear more information than you have ever heard before! By simply placing your components on a Royal Stage Rack System, you will immediately begin to enjoy the more natural, dynamic, richer sound of a live performance in your listening room. There are many fine quality racks available in a wide range of features and prices, many beautifully designed and constructed, but when it comes to sonic performance, they are limited, not so with the RS-15ANV.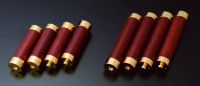 The Royal Stage Rack System is simple to assemble and use, designed to stack one on top of the other using the optional 200mm or 260mm leg extensions to customize the rack to your requirements. Royal Stage metal components are available in bright gold or black plating.
Audition the Royal Stage Rack System and hear what you have been missing!
Specifications
Type
Stack-On
Size of wooden platform
450 x 560mm
Overall size
555 x 685mm
Height
110mm
Weight
10kg
Weight-Resistant
150kg
Colors
Wood platform with gold color leg.
Wood platform with black color leg.
Optional leg sizes
200mm long / 260mm long
Colors
Gold or black


* Specification and design of Royal Stage may be changed without notice for the purpose of further improvement.