Warsaw Audio Show, Poland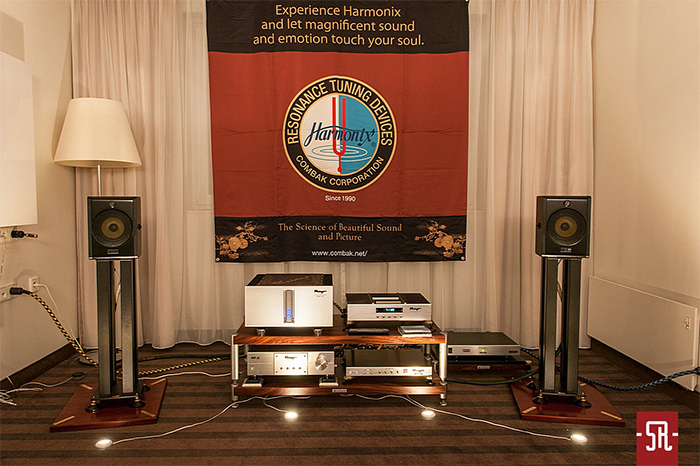 Annual Audio Show in Warsaw was taken placed for 3 days from 4 to 6 November. It is the biggest audio-video and home cinema show in Poland and the second largest show in Europe with 5,000m2 exhibit space. The Show celebrates 20th Anniversary this year.
The idea behind the show is to allow all the visitors to experience the greatest reproduction music sound.
The show is well organized, not like a crowded expo, and facilitated in luxury Warsaw hotels in City as: Golden Tulip and Radisson Blu Sobieski and National Stadium.
The Audio Show is the only occasion where music lovers can look and listen to great number of brands in one place without visiting around dealers in the Country the systems from affordable price to luxury ones.
We at Moje Audio, the Polish official distributor, exhibit Reimyo and Harmonix and presented a very special moment for serious music lovers the system that many music loving people in Poland are dreaming of. The system was layout with all Reimyo including CDT-777 CD Transport, DAP-999EX-TOKU Digital-to-Analog Converter which is a special designed for Polish music lovers, CAT-777 MK2 Vacuum tube Control Amplifier and the newest, first ever, in the company history, Single Mos FET drive Solid State power amplifier KAP-777 and AC line power stabilizer ALS-777 Limited Edition.
The crown of the system were the brilliant loudspeakers Encore ENC-5. The system was cabling with Harmonix and Hijiri as "TAKUMI" Maestro power cords, "NAGOMI" power cords and Harmonix X-DC350M2R Improved Version. They are unparalleled performance in the result of over 30 years of engineering and experience of Combak Corp.
The room we played the system was 20 square meters wide and 3 days straight through the room was full of visitors and I guess there were about 6000 thousands visitors, and we are very sure they enjoyed the great sound and music we played. It was a chance for music lovers in Poland can experience to take close look and listen to sound and music from Award winning electronics and system in Poland.
We are extremely happy to know that every one of visitors have fully enjoyed the sound of our systems , and when they leave our room they gave us highest compliments saying "Excellent"
The show was exhausting but we are compromised with the positive recognition of the visitors and the press.
We are very proud of being representing for Reimyo and Harmonix of the noblest engineering, technology and quality that music lovers have trusted and respected.
In closing, please accept my sincere appreciation for all visitors being with us and we can share the great time together.
I wish to "See you again" in the next year Show.
Krszystof,
MOJE AUDIO
⇒Hifi Philosophy Warsaw Audio Show Report