Munich High End 2012 Show report!
In celebrating of 30th anniversary in May last year, Munich High End Show 2012 was again taken place from May 3 to 9 at M.O.C. in Munich, Germany. A total of 366 Exhibitors, with 52% of foreign Exhibitors shows off their best product and attracts roughly 15,000 audiophiles in local and from neighboring countries. Nearly 4,500 were professional trade visitors, according to official report. The show with 9% more Exhibitors than 2011, a significant increase in number of Exhibitors from USA and Asian, has been scale up much larger trade show than 2011. It's become important showcase for the industry.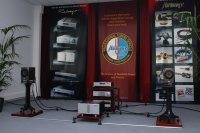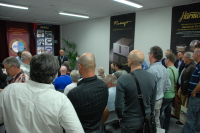 The picture above is Reimyo system layout at the show. As seen, the system layout is so simple and practical, a system that everyone can set up without huge money investment and space problem. It's a system that you can bring to home the same excitement you have experienced at the show. Reimyo system was only among the layout was so simple while most of exhibitors display luxuriously expensive product that you can afford to buy with a huge amount of investment. In term of the sound whether you believe or not by my personal judgment, however, they played lousily loud like a big boom box but they may cost you 5 to 10 times more than Reimyo system it is my personal view.
Nevertheless of simplicity and practical system layout of Reimyo and Harmonix, Reimyo have enchantingly attracted every visitor who came and listened to the sound of Reimyo and Harmonix it looks they got shocked with the performance and sound quality of our system playing by such a small bookshelf speaker. The book shelf sized "Bravo!" speakers driven by KAP-777 was singing amazingly well and lifelike that touched soul. It was absolutely outstanding performance they played.
We were aware of visitors come back to our room 3 to 4 times. When they leave the room, all say it's "best sound of the show", it's miracle! or you are a Genius! to me, Kiuchi.
Here below cited a show report by accredited High End Media that has been publicized on Web already so you may know it. You should certainly be very impressed by the report and can aware of the superior quality of Reimyo and Harmonix can produce.
"When you think of having listened to everything, here it comes the system that unhinges your certainties. Reimyo does well in every listening parameter. It digs into music. It respects the real dynamic. It gives back the pianissimo and supports the fortissimo. Without being missing and without getting flustered, it succeeds in being highly expressive while keeping the music "filigree", without spoiling it with any approximations. Complete chain Reimyo, starting from the ALS-777 AC line stabilizer. A particular interesting device because it is operational also in the resonances conditioning field. A must for the brand, born with the harmonix resonators, up to its coaxial monitor based on Gradient Finland's finish technology and Norwegian SEAS. A paradoxical system, especially for the rendering of the bass emotional part of the visceral punch. But it keeps the promises of a clean, rich and powerful sound. It's not every day that you can listen to such a hardliner music version. In Munich we all have been lucky. Hats off to them." By Remusic, Italy