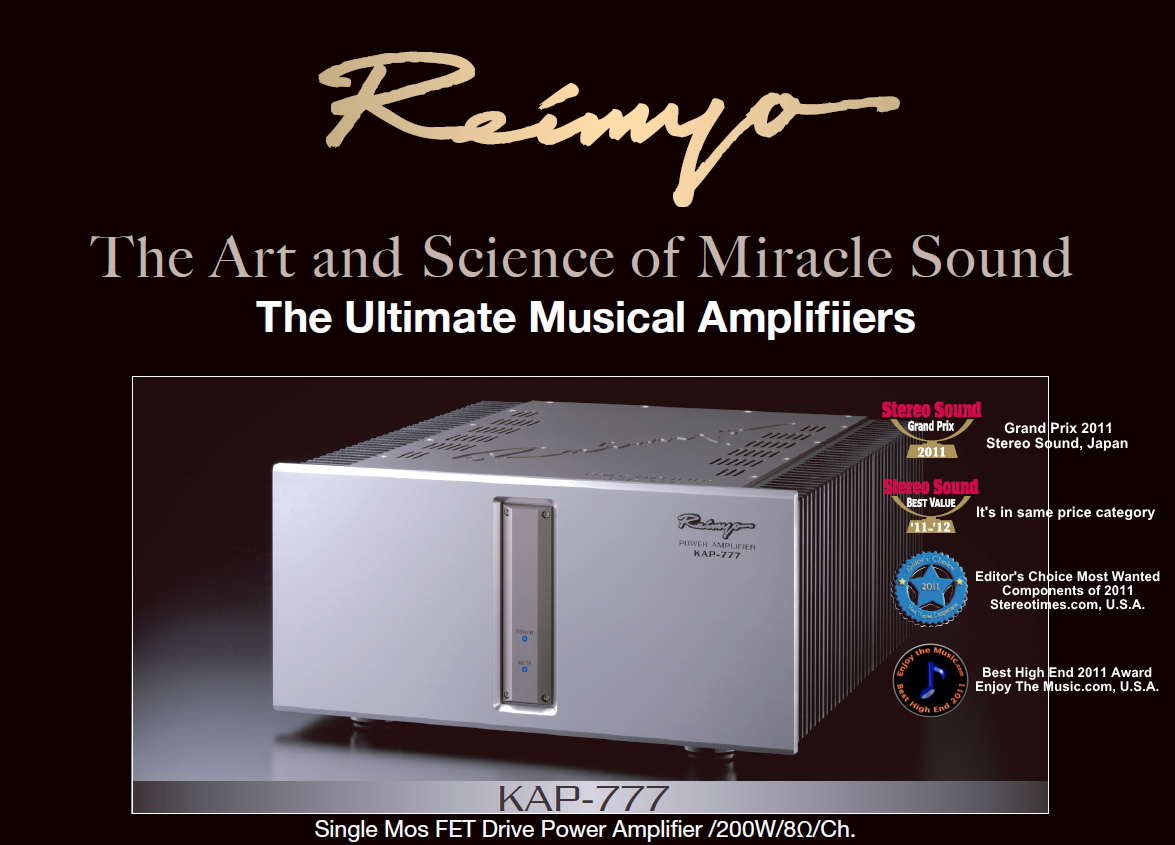 KAP-777
2011 Grand Prix & Best VALUE Components Awards
Following to Best High End 2011 Award by Enjoy The Music.com, USA, Editor's Choice Most Wanted Components of 2011 by The Stereotimes.com, USA, KAP-777 has been selected as Best VALUE Components of 2011 (Its same price category) and awarded 2011 Grand Prix by Stereo Sound in Japan.
According to board member of judgers and reviewers (6 reviewers), all says KAP-777 is amazingly fantastic power amplifier ever heard. The playback sound that KAP-777 brings out is almost likely alive performing on front of us.
Lifelike musicality and delineated sound of instruments are awesome! Perfectly phased low frequency is so smooth and beautiful that it's extending deepest down bottom end with no fussy appearance in image.
Combak Corporation, known as a vacuum tube electronics expert was received 2010 Grand Prix Award to CAT-777MKII last year, KAP-777 their first Solid-State Power Amplifier has been designed on the similar concept parameter the way single-End Vacuum tube amplifier. The sound of KAP-777, therefore, is very much the same as the tube amplifier but effortlessly powerful driving at 200W/8Ω, is powerful enough for the most of impedance load of speakers.
When in listening to live-recording music soft was playback, you can even heard of ripple of talking and chattering voices by audience in the hall and you feel as if you are there together. It's really like alive!
There is no addition and exaggeration then very balanced in music tonal. Highly recommend to listen by many music lovers.